Got MSS?
No matter your job in ITS, we all have a role in keeping our data and IT Systems safe. The MSS Roadshow introduces the Minimum Security Standards (MSS). This covers what they are, why they are important, and how they apply to you.
The MSS identify requirements needed to build and maintain secure IT Systems at Yale. Depending on your job, you may have a lot of interaction with the MSS, or not much at all.
Either way, there's important information for you to learn. We're excited to share it with you in a fun and engaging way. Below are details on our MSS Roadshow.
MSS Roadshow overview
For a helpful reference on this information, download our MSS Roadshow Overview PDF. Or, continue reading below.
What is the MSS Roadshow?
The MSS Roadshow is a 3-part curriculum for Central ITS staff. Below is an overview of each of the courses:
MSS 101: Building the Foundation
MSS 101 introduces the MSS and builds your security knowledge.
What are the MSS?
Why are they important?
How do they apply to me?
MSS101 overview
After you've taken the class, reference our MSS101 Key Slides to review key takeaways from the course.
MSS 101 is required for everyone in Information Technology Services (ITS). This includes:
ITS Staff
Casuals
Contractors
MSS 201: Classifying Yale Data & IT Systems
MSS 201 teaches you how to classify Yale data and IT Systems.
Why is risk classification important?
How does it apply to me
After you've taken the class, reference our MSS201 Key Slides to review key takeaways from the course.
MSS 201 is required for:
Service Owners
Service Offering Managers
DSPs
Project Managers
Business Analysts
MSS 301: Understanding the MSS
MSS 301 helps you interpret the MSS and how they apply to your work: How do I interpret the MSS to apply them to the IT Systems I support?
MSS 301 is required for:
System Support Providers
System Decision Makers
How do I register?
Registration for all three courses is through Yale's Training Management System (TMS). Register for any course via TMS (requires VPN connection). MSS 101 is currently open for registration. MSS 201 and MSS 301 will be available for registration at a later date. The MSS Roadshow will be delivered virtually. All classes are 90 minutes.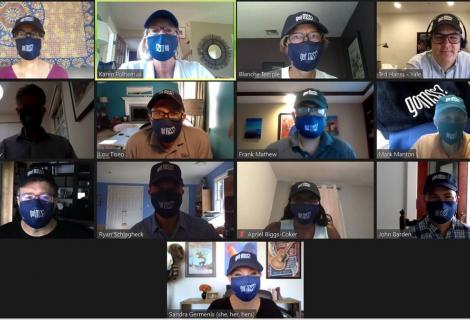 Congrats to our "Got MSS?" swag winners
These individuals were randomly selected from the first 100 staff members who registered for MSS 101.
Michael Dinice
John Eberhart
Kara Franco
Eric Grenier
Michael Gossett
Robert Guanieri
Dan Holland
Debra Houle
Jason Ignatius
Amy Keach
Timothy Melly
Debbie Michelson
Christina Molina
Christine Mongillo
Pete Monroy
Richard Morris
Rob Rocke
Elizabeth Roy
Tod Sanderson
Kathy Swanson
Jaime Tryon
Thomas Undercuffler
Michael Vaughn
Claudia Villano
Mark Wogahn
September Got MSS? swag winners
Courtney Adelberg
Roger Desravines
Heidi Glasgow
Kameryn Larkins
Taber Lightfoot
Noah Lohman
Joanne Luce
Adam Manny
Ilene Omerso
Zac Putnam
October Got MSS? swag winners
Conrad Balagtas
Greg Buckless 
Darrell Cook 
Derek Cyr
Kevin Erickson 
David Hazall-Farrell
Francis Garcia
Aaron Greene 
Mark Lazarus 
Lucy Lin
Michelle Morgan
Vidhya Narayanan
Michael Panzo
Julie Ramaccia
Pasquale Scirocco 
Stephanie Scungio
Alan Scrimenti
Robert Sessions
Stephane Skibo
Elvin Torres
November Got MSS? swag winners
Glenn Hasiotis 
James Hackett
Chi Nguyen 
Devi Persaud 
Javaid Siddiqui 
Caitlin Thompson 
James Tucciarone III 
Maureen Velazquez 
Robert Wolfe 
David Woyciesjes 
December Got MSS? swag winners
John Aiken
Shawn Brooks
Arun Darwar
Kraig Eisenman
Brian Funaro
Tenyo Grozev
Tim Hinckley
Assad Layne
Mike Macary
Walter Szpakowski
January Got MSS? swag winners
Hadar Call
Harshal Dixit 
Camden Fisher
Will Henry
Renee Randall
Luis Ribeiro
Kristian Rivera-Santiago
Jesse Salce
Courtland Stretton 
Jeff Watson
Frequently Asked Questions (FAQs)
When will each course be introduced?
MSS 101 starts on September 15th. MSS 201 is slated to start in October, once a significant number of staff have completed MSS 101. MSS 301 will follow a similar rhythm, likely in November.
Are all courses required?
MSS 101 is required for all ITS staff. You will learn about your role in MSS 101. Attendance at MSS 201 and MSS 301 depends on your role and will vary. If you are unsure if you need to attend to a specific course, please talk to your manager.
Do I have the option to attend all three classes?
Yes, you are welcome to enroll in MSS 201 and MSS 301, even if they are not required for your role.
Will I learn how the MSS apply to my IT System?
MSS 301 will help you to interpret the MSS so that they can be applied to the IT System(s) you support. As the subject matter expert, you ca determine how to best apply the standards to your IT System. Guidance will be provided.
Is this available to IT Partners?
Currently, MSS101 is open only to ITS staff. The course will be available for our IT partners at a later date.